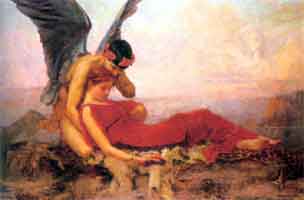 Dreams can be freaky
--
Jadielady
posted about dreaming. So I shared my super scary dream I used to have when I was a child. You'd think I'd tell you here, but I won't. You'll just have to bebop on over to her blog to read about it. I once had a dream that I was a member of the
Gilligan's Island
crew. I also had a dream that I was the
bionic man
. Both of those dreams were when I was a kid. In college I dreamt that my father had died and that he was at the foot of my bed. My college music professor, a follower of
Eckankar
, advised me that a dream like that meant my relationship with my father was entering a new and more advanced stage of development. Maybe it was the power of suggestion - our relationship has gotten stronger over the years.
-
Sometimes I dream in only black and white. But I often dream in color. Seems to me, to say either is a bit strange. I'm not viewing anything with my eyes, so how can there be "color" of any kind. The mind is a beautiful thing. Obviously we aren't seeing anything. Our brains are simply incorporating our experiences into "mind"-reality; from which color is drawn. There's my scientific dissertation on the matter.
-
Several years back I had a dream that made me wake up laughing. I have remembered it ever since. There must have been something about the news that was disturbing me. It was back when the nightly news-dramas were really hot.
Stone Philips
was giving a broadcast and so was
Tom Brokaw
. All I could see were their faces. As TV does, my dream panned away and I could see they were side by side. Even more, I could see that they were giving the news in bed, while naked together. There is where I wake up laughing.
-
Recently, I had a dream that I was out visiting friends in the country. I stepped out into the back yard and wandered out. So peaceful and quiet in the country. No clouds and I could see the stars clearly and smell the fresh unpolluted air. Suddenly, my danger senses acted up and I could tell I was surrounded but was not able to see anything. I could hear the growls. I discerned that the sound came from
wolves
. Just as they
jumped
toward me - WHOMP! I heard the wolves squeal out in pain yelping. I was picked up and carried back to the house. In my dream I could actually feel the running movement and the arm that carried me by the middle. "IT" put me on the house deck and started away. I got up and realized that
Bigfoot
had just saved me. Thank you Bigfoot!!!
-
Share your dreams.